Technological advancements have a major positive impact on different industry verticals nowadays. It has been able to modify the way schools, educational institutions and colleges operate student data. During the last few years, educational organizations around the world have adopted a student information system that manages and streamlines student data effectively. A school managing task can be challenging and tedious. Manual working of school administration involves managing and storing student data. This data includes financial records, student admissions, attendance records, guardian details, exam reports, and various other assignment management.
In this article, we are going to discuss the relevance of the Student information system in academic institutions and how it has resolved issues related to the manual tackling of data. It will secure the long paper trail as well as ensure the safety of storage. The retrieval of student data and ease of access are among the important factors in addition to the storage of data.
Introduction to student information system
SIS or Student Management System is considered an important tool to manage the student data throughout the complete student lifecycle starting from new admissions. It offers storage of relevant student digital databases of every single student in a cloud location. It maintains student data centralized at one location that is accessible by parents, teachers and students.
The student management system serves as a central database managing different school operations. It makes sure maximum data organization has a minimum paper trail. Many SIS platforms have added features for managing administrative tasks.
Relevant features of effective student information system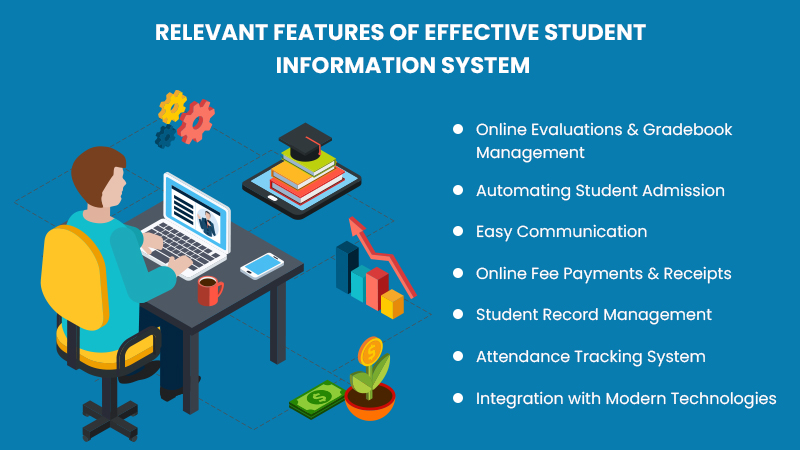 Online evaluations & gradebook management
One can eliminate paper wastage by performing examinations online. The SIS offers automation of the complete examination process from exam schedule planning to report card generation. With the help of SIS, institutes are capable of planning examination courses batch-wise.
Automating student admission
With the help of the student management system, students can apply for different courses from the comfort of their homes. Additionally, school admins can keep track of every single application from a single dashboard. One can instantly share and reject the application dependent on the educational institute's criteria. Students receive confirmation details from parents and students through SMS notification.
Easy communication
The school management system eliminates any kind of communication gap and enhances the productivity of educational institutions. This system ensures that parents can instantly connect with teachers and vice versa for discussing academic events. Schools and educational institutions can send notifications to guardians regarding pending fees, pending homework, PTA meetings, and test results.
Online fee payments & receipts
Student information systems have excellent features of online payment collection and bill generation. Guardians can pay online through the system making the process easier. It eliminates the workload of staff. School administration can easily keep track of payments, and fee defaulters, generating digital receipts and other reports. Therefore, admins can easily maintain the financial records of the school.
Student record management
The main objective of the Student management system is to store, track and manage the student-related data in a protected environment. The platform enables administrators to record student data and ensure that the only authorized person can access them.
Attendance tracking system
With the help of monitoring and marking attendance of students online, teachers do not need to keep track of attendance manually which sometimes results in flaws due to manual handling of tasks. With the integration of biometric devices with the SIS attendance system, academic institutes can keep track of attendance in real time. It also helps in sending real-time alerts to parents as students remain absent.
Integration with modern technologies
The student management system is capable of supporting advanced feature integrations coupled with advanced technologies. It enhances the ability of the platform. For example, integrations such as biometric systems, payment gateways, and online video conferencing amplify the functionality of systems.
Characteristics of student management system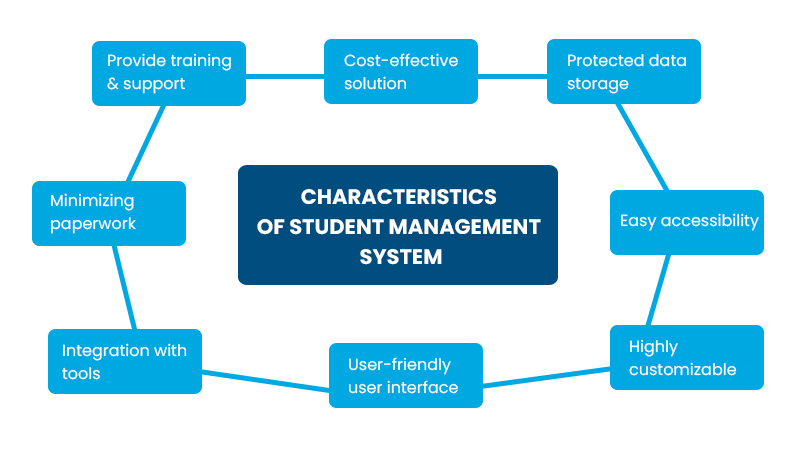 Cost-effective solution
Protected data storage
Easy accessibility
Highly customizable
User-friendly user interface
Integration with tools
Minimizing paperwork
Provide training & support
Unleashing the benefits of student information system SIS
In the case of school admins, the major benefit of SIS is it provides a centralized data repository which keeps all student-related information in a protected manner. It enables data to be systematically updated on the system and benefits the academic organization to keep data in one space.
The mechanism of SIS has the potential to enhance the efficiency of the admission process by tracking the complete enrollment process. This increases maximum efficiency and works productivity with automation and minimal paperwork.
With the help of the SIS system, teachers can evaluate and analyze the progress of every student with various tools and dashboards integrated into the student management system. The results generated are pedagogical and also fit the learning edge of the student.
The SIS system enables teachers to communicate directly with parents by using notification tools and integrated messaging. 
Parents are capable of monitoring their children's academic progress, attendance, and grade through SIS.
It also made their financial payments easier through an integrated payment gateway. It enables payments timely and hassle-free.
Students, they can access their daily attendance, pending assignments, grades, upcoming events and topics. With the implementation of SIS, they can examine their progress after each test and can connect with teachers for clarifications & clearing doubts.
 Final thought
By means of implementing an effective student information system, educational institutions' operations can be easily managed. Apart from saving time, and effort and improving productivity, it helps in automating the functionalities of a school. JibuSMS is the best school information system that helps to streamline the processes of the school, colleges, educational institutes and academic organizations. Connect with the top professionals to have a complete idea about school information systems and their functionalities.
What is SIS: The Importance of Student Information System