Many procedures inherent in the school systems have financial implications. These are usually handled by skilled administrators with years of experience. However, mistakes can happen even among such professionals. Many other school processes require a lot of time simply due to their complexity. This can also happen when the work is fairly simple, but large amounts of work must be done to solve such problems, and that is why school software is integrated into the school systems. School mobile app has been developing at an increased capacity in the last couple of years. The enterprise-level tasks are handled easily by both desktop and mobile app. This is due to the exponential increase in the processing power of devices.
The time management aspect is easily solved by providing most of the school management features on mobile. Smartphones can be carried around anywhere and they help teachers, staff, and students easily interact with the school system, saving time. They also help the parents track the growth of their children comfortably. Thus time-saving occurs on multiple levels. Expense management facility is also done easily and securely through school mobile apps. We can see the different ways this is achieved in this blog. The only major investment of the school is in installing and integrating such a system into their school. The software is made very easy to use both on desktop and mobile versions.
Time and Expense Management Using School Mobile App
Mobile applications routinely reduce work by managing difficult tasks inside the school system. They help all kinds of people who serve the school or those who benefit from the school system. Following are some ways how mobile apps save time and money in the school systems.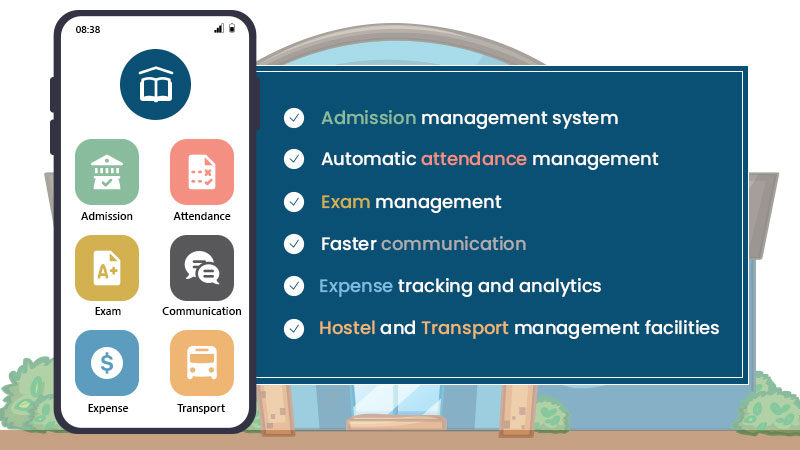 Admission management system through school mobile app
Admission is one of the tardiest processes that involves both time and money management issues. The admission information can be easily obtained through people who are encouraged to use the mobile app. The admission forms so obtained will have fewer errors than traditionally filled admission forms. This is because the mobile application will not allow admission forms to be submitted if there is missing or wrong information in it. Payment can also be made via mobile apps through internet banking options. Such payment is secure and faster than payment done in other methods. Thus both time and expenses are saved in the admission process
Automatic attendance management
A lot of time would be wasted in attendance management in schools that work the traditional way. The trouble would increase as the number of students increased, and this is where mobile applications can help. This technology helps, especially in remote classes. Credential based login systems can be used as attendance systems for remote classes. This helps increase security by not allowing any proxy attendance mechanisms. Hence time management is efficiently done with the help of a school mobile app.
Exam management in School mobile app
Teachers are also routinely tasked with exam management, and when there are a lot of students it becomes difficult to handle. Teachers can often commit mistakes when correcting exam papers and this can mean financial implications for students. The mobile exam management tools can help reduce such mistakes by directly correcting the student papers or only leaving the parts which require human supervision to teachers. Any expenses in the exam management are also easily tracked by the school management app designed for the purpose.
Faster communication
Every school requires a communication system that is fast. This is to ensure efficient functioning between the school departments. Mobile devices come in extremely handy in tackling this issue as they can be used anywhere and easily. Such communication is also made very secure with the use of the latest technologies. Only people with the essential credentials, biometric or password-based are able to view these communication transcripts. Communication can be made super fast by a school mobile app and this can also secure the school financially.
Expense tracking and analytics
The school management systems also come with tools that help track each and every transaction done in the school. These can be viewed and analyzed in real-time in the school management app easily. This facility is available to the administrative department and related staff. The software helps in inventory fee management for routine and special events. The school mobile app is also the tool used to plan for such educational expenses beforehand so that any event or process can be carried out as efficiently as possible.
Hostel and Transport management facilities
The school management system also helps in the management of hostels and school transport. They are linked to the mobile application to help increase efficiency and ease of use. The administrators can easily track how much expenses these auxiliary facilities are using up on a day to day basis. Students, on the other hand, are provided with instant notifications regarding anything important in the facilities. Thus time is saved on their part by using the school mobile application.
The mobile application is responsible to help the students, teachers, staff, and parents get more comfortable with each other. The whole of the school's infrastructure can be connected with the mobile app and most of the repetitive tasks can be automated. All such automated tasks are supervised by very few administrative staff. The school mobile application is thus very useful in maintaining a significant portion of the school's time and expense management issues handled.
Conclusion
Mobile applications have become an integral part of the school systems and a school mobile app is now capable of handling administrative level tasks. They are not a luxury and are considered an essential part of the schools that handle a high volume of students every year. JibuSMS is a school management system of Kenya developed by Advanta Africa. It is an enterprise-level software, capable of all administrative tasks of the school. It is equipped with features of time and finance management in the school. It also has a mobile application that ensures that time and other expenses are handled efficiently.
How School Mobile Apps Save Both Time and Expenses Effectively?