Since the development of processing power, online learning tools have gained wider popularity. Combined with the increased internet bandwidth and user reach, online learning has become an alternative to actual schooling in many nations. The learning is carried out in what is called "virtual classrooms". They are an internet space shared by many students and sometimes multiple experts and teachers around the globe. Depending on the type of virtual classroom software used, the behaviour of the people using it changes. Although most software supports most kinds of virtual learning models, some are optimized for specific uses.
Models of virtual classroom software
Although every virtual classroom technology is used as a tool for online learning, the methodology used for learning is different. This is why there are many models of virtual classrooms. Following are the many models of virtual learning which are popularized into the system.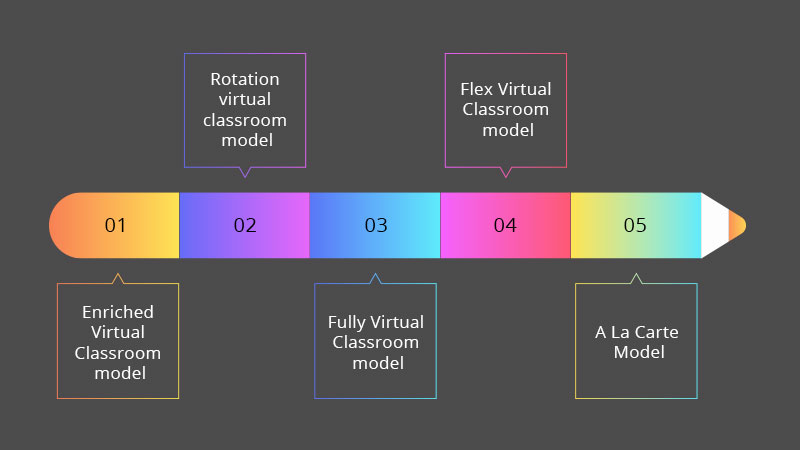 Enriched Virtual Classroom Software model
This is an online learning model where learning is done mostly online with some face-to-face interactions. This model offers great flexibility for students. They can schedule their own time to use the virtual classroom software. Daily basis study is not required, as long as the student completes the course in the specified time. Every student must carry out most of his or her projects at home. Series of courses are also sometimes taken using this model of online education.
Rotation virtual classroom model
This virtual school classroom model is so named because the students rotate within a single schedule of a subject. This is usually one of the essential subjects that every student must learn. This model falls under the concept of blended learning. The learning method is conducted through the virtual school software system that helps teachers as well as students to progress virtual learning models.  
Fully Virtual Classroom model
This is the model usually used for higher education, including students of the university, university graduates, and researchers. People using this model of online education do all the coursework online. There are little to no online interactive sessions. This virtual classroom model is used mostly for research, conceptualization, and design.
Flex Virtual Classroom model
This virtual classroom model, as the name suggests, focuses on flexibility. Students are allowed to join or leave the virtual classroom at any time of their convenience. The administration makes sure that the necessary tutors are always present and adequate learning materials are provided with the help of the virtual school software system.
A La Carte Model
A la carte model of the virtual classroom is used when the students intend to take online learning in parallel to offline education. A la carte is derived from the French phrase, which means "as per menu" The students can take one or a multitude of different online courses in this model. The curriculum or the timing of the offline school is taken into account and suitable time and course duration are assigned.
Most necessary features in virtual classroom software
Following are the must-have features in any virtual learning software.
Compatible Across Devices
This is one of the most important features of virtual classroom software. The systems designed in the online classroom must work in a user-friendly manner on all devices. This includes laptops of different processing power, mobile devices, and tablets. The people using the virtual classroom must get a good experience in all operating systems. 
HD And Live Video Streaming Capability
This is an essential feature for all virtual schools. The software acts as an intermediary between the students and the teachers. The teachers must be able to present themselves in real-time seamlessly. The virtual classroom software is designed such that there are no performance issues on the side of the user or the side of the school staff. Students must be able to ask their doubts on live-streaming sessions and teachers can easily recognize the problems of each student with this facility.
Grid View
The grid view feature allows the students and teachers to view each other on a single centralized screen. The user experience is thus enhanced on both sides and it enables the teachers to view all the students at once. The teachers can then evaluate their response in the virtual classroom, as they would in a traditional classroom. The grid view is designed so that visual distraction is reduced.
Security through virtual classroom software
This is an important feature when virtual classroom software is concerned. Such software holds a lot of private student and staff data. Security systems in the software ensure that no outsiders can join the sessions without credentials. Passwords and private links for communication and meeting are used for this purpose. Students and teachers are made to have access to the class content like subject information, assignments, and exams according to their privileges. All online communication with personal information is encrypted so that only the communicators hold access to it.
Screen Sharing and Live Presentation
Screen sharing and live presentations are the effective features of the virtual school software and allow the teachers to share on-screen activity on their computer in real-time with all participants in the virtual classroom. The teachers can demonstrate important on-screen activities and concepts that the students can then follow to replicate the results or follow the procedure. This enhances the learning capacity of the students.
Controls for Meeting Hosts
The virtual school software must provide state-of-the-art controls to handle online interactions like meetings. This is very important since poorly managed classrooms are of no help in learning. Essential features that restrict access to specific functionalities are provided for the person of authority in the software. It prevents any misbehaviour in the learning experience of the virtual classroom. Functions and features can be turned on or off for either a single student or for the entire class. 
Interactive Digital Whiteboard and Other collaborative tools
A digital whiteboard can be compared to a chalkboard in the offline classroom. The teachers can teach via equations or diagrams on the digital whiteboard. But in the virtual school software, the digital whiteboard offers a broader scope because of the degree to which content can be interactive. People using the tool can draw, sketch, and write together in it to share thoughts, and come to conclusions. It is a great tool to keep learners engaged and to increase collaboration. Other collaborative tools include group chats and instant messaging to members of the virtual classroom.
Cloud Storage and Backup
Cloud storage is an excellent method for teachers and students to store their virtual classroom data and access it at any time. This also helps save local disk storage and offers considerable security. It helps in the efficient distribution of such data among many students. Students have access to previously recorded lecture videos and publicly shared data while maintaining separate cloud storage for their personal data.
Conclusion
Virtual classrooms have expanded in their reach and performance over the last couple of years. The schools which use such software are bound to be more capable of providing a better learning experience. JibuSMS is one of the best school management software which has virtual classroom technology embedded in it. It offers plugins that enable it to transfer video and audio data seamlessly. It is an all-in-one school management software that has provided its services in Kenya. This virtual school software can provide great benefits to any school around the world.
Top Must-Have Features in a Virtual Classroom Software