As technology increases, things change and the methods, perceptions and even organizations are affected. One such organization that has recently been increasingly affected are schools around the world. Technology has made possible the use of long-distance calls and video conferencing, automated translations and virtual reality. Best school management software helps youngsters these days to learn ever faster while being safe and at the comfort of their own house. We will take a look at how this actually happens in the real world.
What To Look For In A best School Management Software
While selecting the best school management software, it is very important to understand the requirements of a particular school. Usually, the software around is tailored to specific schools but some can function in a wide area of requirements. This section tells you what to look for in such software and decide for yourself what the best school management software is.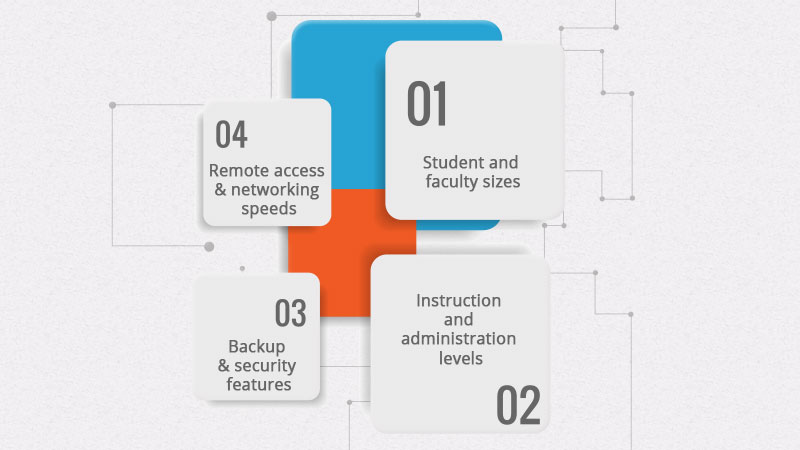 Student and faculty sizes: The student body size and the number of faculties matter while deciding the best school management software. Depending on the capabilities, this factor can impact the people using the software. This can increase or decrease user ratings. This is why one must select their vendor with great care.
Instruction and administration levels: The needs of every student differ depending on their age and the class they are in. a grade-schooler cannot handle the instructions of a college student and thus the best school management software is the one that incorporates all the subtleties of school administration and functioning including leisure of the students.
Backup and security features: As such dealing with the school administration tasks means that the software must handle all the data. The security systems of software that can be called the best school software must handle the data seamlessly without it being compromised. The confidential student and faculty information must not be leaked to the outside world, and each faculty/ student information must be given enough privacy and respect. Internal leaks must also be taken care of. If anything does happen, the best school management system must have a fail-safe backup if anything happens.
Remote access and networking speeds: The best school management software must have the ability to seamlessly connect to remote places for it to be the most effective. The school management system must run in all devices to make this possible. Technology must be put into place to make this happen in a user-friendly manner. The software must be simple enough so that every student can understand it, but it must also have functions to let the faculty teach everything they need to teach.
Features
Effective handling of student information: This feature is the very basis of all the features that must be present in anything that wants to call itself the best school management software must-have. 
Parent and faculty portals: The parents and faculty must have separate user logins where they can view and track the student information. The parents must be able to securely view the students and teachers must be able to post new learning material and interact with the students respectively.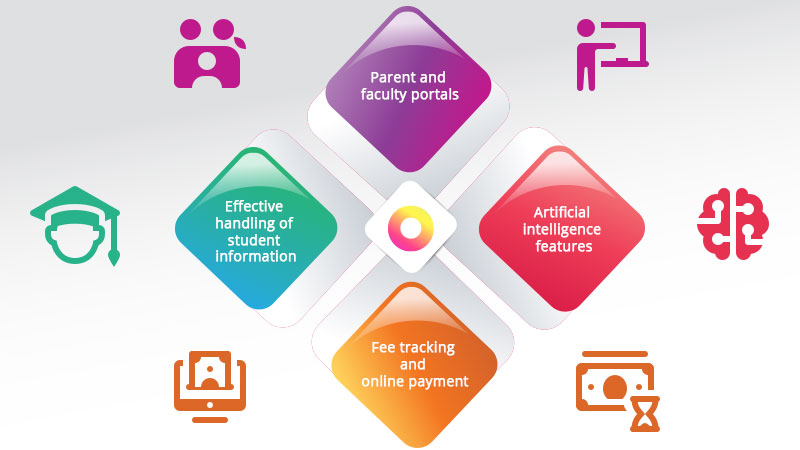 Artificial intelligence features: The best school management system software must provide AI features like transport management, intelligent chatbots that can interact with students, and features like azure integration which means the software has internet of things(IoT) capability.
Fee tracking and online payment: The best school management software must come up with the solution to fee tracking of every student and also provide the parents must be provided with the online payment options.
A List Of Top 10 Effective School Management System
According to market research, here are some of the software that can compete for the title of best school management software.
Gradelink sis
This is one of the best school management system developed by a US company and has a built-in learning management system(LMS). It features report card, assessment and transcriptions in its classroom management system. It has features which help it make weighted assignments, individualized assignments and view class summary. Gradelink has an attendance tracking feature, lesson planning and a separate parent portal. At the organizational level, it features the cafeteria, curriculum and financial management systems which can manage the entire school system.
JibuSMS
This is a software developed by Advanta Africa and it is one of the candidates for the best school management software as it supports all the features one wants to find in such a software. It features unlimited student and course capacity. It features a separate parent portal and keeps track of the growth of the student. It has online payment as a feature in one of its modules and on an organizational level it features transport management, azure integration and hostel management system. JibuSMS can also work in multi-school environments and certainly qualifies as the best school management software.
Igradeplus:
This is a software which can be used as an affordable web-based grade book and a full-fledged school software management system. It has the capacity to generate report cards, tests and assessments. It has the capability to be called one of the best school management software since it offers curriculum management and higher education at the organizational level.
Familyid:
It is one of the best software that is making easy the process of registration and searching for important information on academic programs, fundraisers, sports and more. This software features attendance management, contact management, form building and online registration with payment processing. It features higher education and special education and can work in the organizational level of a school district.
Freshschools:
This is one of the best school management software that can help with year-round admission management. It also features separate parent and staff logins, online payments, and reports and analytics. It features special education and library management and works in the organizational level of a school district.
Parentlocker:
Features bookstore management,  special education and cafeteria management on an organizational level. This is definitely one of the best school management software as it features all that with the basics of parent/student portals, reporting and analytics and online payments.
Boardocs:
This is one of the best school software that has allowed over 2000 schools to operate at low costs. It has features like taxation assessment, document management and work order management. It has material management systems and meeting preparation tools and also scheduling and travel management systems.
USA Scheduler:
USA scheduler is a master scheduling software for schools and has the features of scheduling highly accurate data over a user-friendly cloud-based platform. One of the best school management software has features related to special education and higher education.
Bloomz:
Presents itself with the features to connect parents and educators It includes features of messages, photo/video share, schedules coordination, signup form for volunteers features. in addition to that it features management of meetings and field trips. It also has a platform for student behaviour management and personality records. This is one of the best school management software available on mobile.
School diary:
This is one of the best software that can manage all the messages the school sends and receives. It features an LMS system, attendance management features, real-time chat and collaboration tools for classrooms and labs. On the organizational level, it has library management, higher education and special education.
Conclusion
The birth of school management software has led to ever more increasing scope of the education departments around the world. Kids and college students alike can now learn from their homes. No matter how remote the area or how far behind the community may be in terms of education, the best school software around the world hopes to make the world a better place. JibuSMS is the best school management software system in Kenya offering a very efficient solution to conduct classes remotely and manage the administrative operations online.
Top 10 Best School Management Software In 2021