Cloud technologies occupied the maximum industry ratio beginning from multinational companies to business operations. Business owners take on cloud computing as it offers a number of benefits to them. With passing time the significance of cloud computing influenced significant shifts in the education industry. The classroom experience can connote a whole lot of meaning with increased engagement and advanced outcomes. Putting relevant emphasis on the utilization of cloud technologies of school management software in schools has effectively facilitated the organization and learning procedures.
Importance of Cloud to school
With the effective usage of cloud tools, students become acquainted with multiple programs, technology and applications. When students leave schools, it is important that they acquire skills to create, innovate, build, think critically, and collaborate effectively. The way of communication between the teacher and students turns out expedient.
JibuSMS is school management software that can be facilitated to students in a distinct manner. Scholars have prospects to raise their voice in decision-making of demonstrations. It enables them to choose their way of learning by using smart technologies at hand. With the many facets of cloud computing benefits, take a glimpse of the major assets of cloud technologies in schools.
Why Schools should take an assortment of cloud tools
Relevant Flexibility 
Cloud solutions make schoolwork easier than ever. With the assistance of cloud technologies, teachers can work from school as well as from home. A good internet connection and a working laptop/PC is all they need to access the software. The same method applies to students' guardians. 
With the recent pandemic situations, many schools have already taken cloud technologies at their fundamental point. Parents can access the software from any location and at any time. By dint of increased flexibility and enhancement of correspondence, parents can easily connect with teachers through cloud software.
Maintains Security and safety of school data
The software developers will have accepted procedures for security. This incorporates security inside the programming of the software product. Owing to the similar solution by developers to every client, people become aware of all security dangers gathered around the world and the patterns in the business. This makes the cloud innovation programming school ERP secure to have your information. School security is of utmost importance and with cloud software, you can run protection easily. You can easily grow your school business with cloud technologies.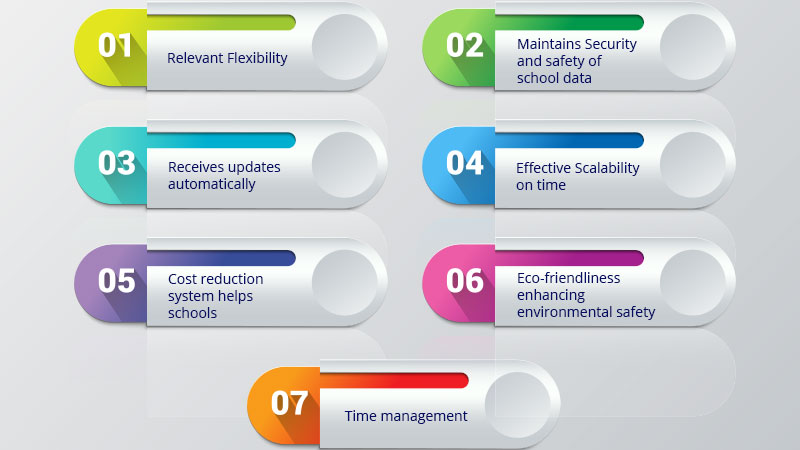 Receives updates automatically
The new cloud technology of school management software is filled in with features that can update automatically to the recently updated version. However, you must be wondering, does it need any download action? Absolutely not, the latest version gets updated even without needing any kind of configuring, installing, and downloading versions anew. In case of any updates, schools need not hire cloud base professionals to manage the software related advances. Teachers and parents can access them with zero downtime and zero hassle.
Effective Scalability on time
The term, scalability refers to the immediate capability to downscale and upscale solutions related to glitches as per the decreasing or increasing need of the solution. In a school education system where several students are there, at times many parents will access the same software at the same time. This generally happens during the payment of monthly fees or exam fees. In those circumstances, the school ERP system comprising cloud tools should upscale naturally without hanging tight for manual interference of a professional. This is conceivable through cloud innovations.
Cost reduction system helps schools
Moving to cloud computing can give schools budget-friendly equipment to manage data of the students, teachers, staff and technicians together under one roof. It allows school management to diminish cost on power, hardware, license and support. Cloud tools enable schools and organizations to access the online textbook copies. Thus, you can cut off the cost of spending offline books and ensure students get the recent updated edition.
Distributed computing can likewise cut the measure of paper utilized and copying costs. The modern 21st century of the educational industry has seen much advancement, among which cloud computing made the experience better than before. As every school begins using effective cloud technology strategies, they can evince school development and student success.
Eco-friendliness enhancing environmental safety
Owing to the consolidation of the hardware materials of a school management system that run on energy inputs and heat emit capacity; the cloud technology solutions are eco-friendly and safe. When a school or organization is using cloud technology, more than 80% of the hardware storage remains unused. In spite of this unused portion, the similar energy input remains and acquiring CAPEX as per it. 
Time management 
Instructors can save all their exercise plans and tasks to the cloud. From that point, they can impart them to different instructors and executives and get criticism on them. This makes exercise arranging from year to year less complex and considers teachers to move designs without any problem. Educators will presently don't need to manage the dissatisfaction of lost materials and tasks as the cloud holds this data. Rather than conveying papers and notebooks for evaluating, educators can review and offer the evaluation on tasks from their device. The cloud likewise smoothes out the cycle for collecting absent and late work from missing scholars. With the help of JibuSMS school management software, all school operations become simple and convenient.
Effective Reasons Why Schools Should Shift To Cloud Technologies