Since the advent of school systems, there have been school management systems. These systems are set in place because they have to manage the inevitable administrative pressures of dealing with the school system. Running a school means taking care of different departments like teaching, staffing, setting up school events, admission departments etc. Most of the departments absolutely need humans, like teaching. But since the dawn of time humans have found a way to reduce unnecessary work, and now with school ERP(Enterprise Resource Planning) systems, the important administrative tasks which come with repetition, difficulty and importance can be handed over to school management software.
School ERP systems are systems that can handle most of the tasks at school, except the ones that are important in human interaction. As the name of such school management software implies, they work at the enterprise level and handle the school's administration, staffing and event management. They can even be set up to effectively handle hostel management and transport management. Now, these school management systems can also be controlled by using a mobile app. A mobile app that can remotely control such ERP systems offers the opportunity for such systems to be massively more useful and efficient.
Following are some of the many ways school ERP mobile apps improve the learning experience offered by the school. These range from the minimal level like easy progress monitoring for students to Remote operation of the entire school management system.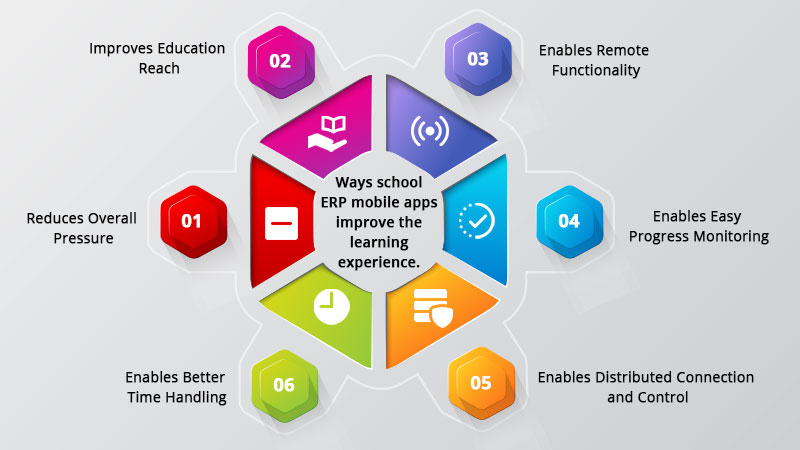 ERP Mobile Apps Reduce Overall Pressure
School management systems reduce overall pressure by taking the repeated but important routine work to itself. This means the staff have more time to themselves and every student is more attended to. The mobile app can also help this by increasing the efficiency of this system. Mobile apps are known for being user friendly but robust, so the students, in particular, are incredibly helped by this. Mobile apps can also foster more creativity from the teachers since news ways of teaching are made available by the mobile app.
School ERP Mobile Apps Improve Education Reach
the school management system's reach can be improved by using a mobile app. The school ERP system in itself cannot go into remote areas where education needs to go. There are lots of such remote places that the education system has not reached for one reason or the other. Mobile apps can break the barriers of Geography and culture and improve the reach of school ERP systems. This improves the students learning experience as they can learn remotely. As the only required element for the school management system here are network towers, With a little help from the local government, mobile apps can be taken advantage of to make this happen.
ERP Mobile Apps Enable Remote Functionality
School ERP systems can help students learn remotely since ERP systems offer long-distance video streaming. This is a two-way advantage where both teachers and students can benefit. Students can learn from the comfort of their home. School ERP systems can also be fit with IoT(Internet of Things) wherein certain hardware can be operated remotely with the help of a mobile app. This can make things faster in and around the school thereby increasing a school's productivity. 
Mobile Apps Enable Easy Progress Monitoring
Parents and teachers alike can easily monitor the student's progress when the school ERP system is integrated into a mobile app. This is also true in the case of students who want to monitor their progress. Special access systems are provided to every participant in the school system so that they can get system generated reports of activities. This means the administration is now faster, more accurate and secure because school ERP systems come with a range of high tech security features like SSL and TLS for their webpages.
Education Mobile Apps Enable Distributed Connection and Control
The mobile app allows people using it to have a distributed connection and control over the school management system. This means important information can be passed on easily and securely over long distances. This school ERP system also has the advantage of handling emergency situations far more effectively than without it. The school ERP system can support third-party apps which can connect the system to larger social media networks. This way It can be made to work with the ever-changing environment 
School ERP Mobile Apps Enable Better Time Handling
Humans can make errors when it comes to time, and are often lazy or ignorant to correct such errors. With a mobile app integrated into the school management system, time management becomes far easier. This is because the daily routine and even the complicated task of handling school events can also be scheduled perfectly. Changes can be made easy by the mobile app. Events can be made more successful by utilizing the handheld mobile app to take and distribute photos and information about the event.
JibuSMS is one such mobile app integrated school ERP management system. It has been one of the leading ERP school management systems in Kenya and has for years provided education to remote places. It has also provided seamless remote learning facilities for its users. It includes secure video calling plugins, easy on the click reports and separate student, teacher and parent portals. It includes hostel management and transport management on the enterprise level. It also includes Microsoft azure IOT support, and the school can even make use of IoT features. 
Conclusion
School ERP systems can be made useful even more times by utilizing it with a mobile app. Mobile apps today have become an indistinguishable part of the culture due to their ease of use. By integrating these two, massive utility and greater education can be achieved.  JibuSMS is one of the best School ERP systems available in the world that has served hundreds of families in Kenya. It offers an integrated mobile app, with which it increases its capabilities.
How Does A School Erp Mobile App Help In Improving Students Learning Experience?